SOUTH PORTLAND, Maine – Sellers Publishing has recently released six children's books that can be found wherever books are sold both in-store and online. According to Marc Trobman, Director of Business Development, "this new introduction of children's books firmly puts our company into this segment of the book business. Our children's books fill a white space in the category by offering characters, imagery, and expert storytelling in a book that can be read to a child or by a child."
Sellers Publishing is renowned around the world as a publisher of inspirational gift books, activity books, cookbooks and other themes. Sellers jumped into the growing children's book channel this fall with the introduction of our initial 6 titles and has plans to grow the program with 3 additional titles in the spring of 2021.
"The aim of the children's book program will be to capture the humor and whimsy found in childhood, while working with respected illustrators that will bring the texts to life, said Lauren Magee, National Account Manager for books. "Now, more than ever, children need laughter, love, and playful imagery."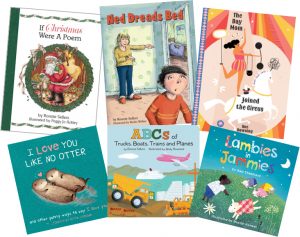 Sellers Publishing, Inc. is an award-winning publisher of books, calendars, RSVP® and
Wicked Funny® greeting cards, High Note® Premium Planners & Stationery, and other
stationery products. The company was cited by Publishers Weekly four years in a row for being among the fastest growing independent publishers in the country. It is located in South Portland, Maine and can be contacted at 800-625-3386 or by visiting their Web site at www.rsvp.com.
For more information on our children's line, please contact Lauren Magee, National Account Manager for books, at [email protected].
# # #