SOUTH PORTLAND Maine—Sellers Publishing, Inc., a South Portland, Maine-based, publisher of greeting cards, calendars and books, is pleased to announce that Marc Trobman has joined the company as Director of Business Development – North America.
Trobman brings over 39 years of experience in social expressions to Sellers Publishing and their RSVP Greeting Card line. He spent 30+ years at Recycled Paper Greetings, where he was Senior Vice President Business Development, and the last 8.5 years at Avanti Press, where he served as their Vice President Business Development. Trobman has built his career establishing strong relationships with retail executives with a focus to help them achieve their objectives using a consultative approach.
"Marc Trobman is known throughout the industry for his ability to develop highly productive opportunities that benefit all stakeholders. His high ethical standards, his commitment to quality products and service, and his enthusiasm for publishing make him a great match for Sellers Publishing," said Ronnie Sellers, President and Publisher of Sellers Publishing. "We are thrilled and honored to have him join our team and we look forward to supporting his efforts to grow sales of our RSVP greeting cards, calendars and books."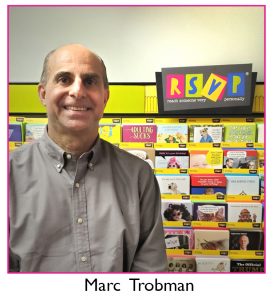 Sellers Publishing, Inc. is an award-winning publisher of books, calendars, RSVP® and Wicked Funny® greeting cards, High Note® Premium Planners & Stationery, and other stationery products. The company was cited by Publishers Weekly four years in a row for being among the fastest growing independent publishers in the country. It is located in South Portland, Maine and can be contacted at 800-625-3386 or by visiting their Web site at www.rsvp.com.
# # #