SOUTH PORTLAND, Maine—According to a 2015 study by the American Cancer Society, over 2,200 women are diagnosed with cancer each day in North America. For those women, Sellers Publishing has worked with 25 female cancer survivors who each share their personal stories about how to cope with and prevail over cancer in an inspirational new book, 25 Women Who Survived Cancer: Notable Women Share Inspiring Stories of Hope, edited by Mark Evan Chimsky (978-1-4162-4584-1; $16.95).
"Just as it takes courage to fight cancer, it takes courage to share the details of the experience," said Ronnie Sellers in the book's Preface. " Their stories are powerful, informational, emotional, and often (believe it or not), funny in a most human way. Most importantly, they are real. And therein lies the power of this book. It is a collection of real stories about real women who faced cancer, fought cancer, and won. It is a testament to the power of hope. Could there be anything more inspiring than that?"
The authors write with candor about how they faced cancer without letting it define their lives or conquer their spirits. They recall how they reacted to receiving their diagnosis, how they moved beyond fear to become engaged in their healing process, and how they dealt with body image and sexuality while undergoing treatment. Their reflections on what their cancer has taught them, and how their lives have been changed by it, are poignant and powerful. This collection includes the experiences of women who have survived breast cancer, uterine, cervical, and ovarian cancer; Hodgkin lymphoma; and malignant melanoma.
Contributors to the book include Joan Lunden, Barbara Delinsky, Liz Lange, Shonda Schilling, Bárbara Padilla, Sylvia McNair, Marissa Jaret Winkour, and more.
Thanks to the generosity of the contributing authors, all of whom provided essays on a pro-bono basis, the royalties generated from the sale of this book will be donated to nonprofit organizations dedicated to preventing and curing cancer.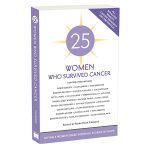 25 Women Who Survived Cancer is a 5.5″ x 8.5″, 248-page, softcover book that will retail for $16.95. It will be available in bookstores and gift shops nationwide and through Sellers Publishing's Web-site, www.sellerspublishing.com.
Sellers Publishing, Inc. is an award-winning publisher of books, calendars, greeting cards and journals. The company was cited for four consecutive years by Publishers Weekly for being among the fastest growing independent publishers in the country. It is located in South Portland, Maine and can be contacted at 800-625-3386 or by visiting their Web site at www.sellerspublishing.com.
# # #